Our Latest Version is Now Available
Our dedicated Product and GIS teams have made significant improvements to our already robust set of features and data.
Upgrade today and get access to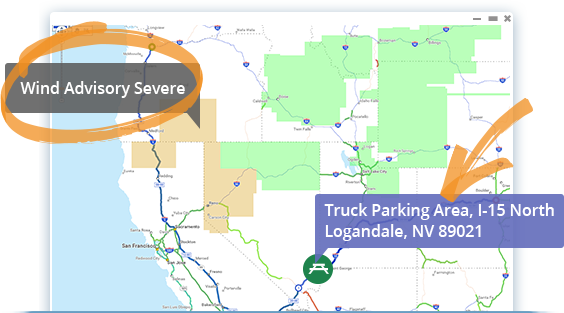 Upgraded POIs with Validated Amenities, including Truck Parking, for Hours of Service Planning and Safety
Giving our customers the highest quality data is our top priority. We've spent extensive time confirming, verifying, and updating locations of, and amenities at, truck stops and rest areas.

Enhanced Workflow for More Efficient Operations
From easier panning and zooming to improved state and country name entry, route planning has never been so intuitive. With our redesigned Map Features box, easily change settings or modify the map display. In Application Settings, you can now choose to run mileage and distances in whole numbers for rating, billing, driver pay.

Display Road Conditions and Get Proactive Wind Advisory Alerts to Keep Assets Safe
Display current and predicted road surface conditions (like wet, slippery, or snow covered) and be notified in the route plan if your routes are scheduled to pass through areas where blow over threats are high.
PC*MILER|Weather License required

Get with the program…the Annual Support & Update Program
Join the AUP and automatically upgrade to the latest version of PC*MILER when available and receive:
The Latest North American Map Data with Truck Restrictions and Allowances

---

Unlimited Full Coverage Phone and Email Support

---

Software & Map Data Updates
Enroll Today
Plan with Precision
Don't just guess when it comes to safety and the bottom line. Use accurate map data and real-time displays to maximize time, control costs, utilize assets, and keep drivers safe.

Make an Investment with PC*MILER